JACQUET West achieves ISO-9001 and AS-9100 certification
Following an 8 month long process JACQUET West is pleased to announce achieving ISO-9001 and AS-9100 certification. That means all four locations in the US are now ISO-9001 certified. JACQUET West is now also listed in the OASIS aerospace supplier system. General Manager – Chris Weber - said this was one of his primary goals when arriving at JACQUET West 15 months ago. ISO and AS certification validates that your process is sound, your people are trained and tested, and your suppliers are validated to the highest quality standards.
North American Oil & Gas Rig Counts
US active rig counts have increased from 978 in 2018 up to 1047 in February 2019. Canadian rig counts have dropped from 306 to 212 in the same time span.
JACQUET West now offers water injection plasma cutting
Water injection cutting uses water to constrict the plasma arc rather than nitrogen or argon-hydrogen. This offers a smoother cut edge and minimizes dross. This also greatly minimizes the heat affected zone and less chance of plate warpage due to heat. This is available for a slight premium over standard plasma cutting and up to 2.0" thick.
Mill Price Increases
Allegheny Technologies and North American Stainless both announced price increases for March 1, 2019. ATI announced that 200, 300, 400 and duplex grades will increase $.05/lb and PH grades up 3-6%. This is "necessary to support continued growth and investment in our business". NAS announced that 304/304L will increase $.04/lb and 316/316L $.06/lb for Discrete plate. Long products had slightly different price increases.
Mill Surcharges
Mill surcharges for March are up $.0464/lb for 304/304L and up $.0556/lb for 316/316L. Nickel has increased on the spot market from $5.23/lb on 1/24 up tp $5.85/lb on 2/26.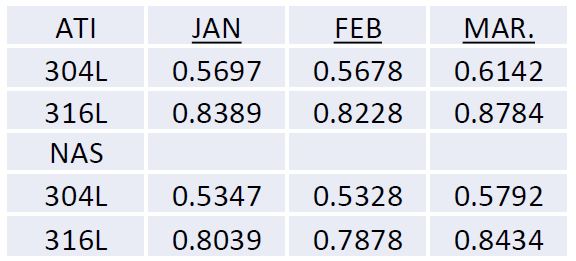 Mill Fuel Surcharges
North American Stainless has announced that Fuel Surcharges are being increased to 25% for March shipments.